【International IGS Seminar】"Organizing Domestic Workers in Indonesia"
On February 6th, 2021, the Institute of Gender Studies (IGS) hosted the seminar entitled "Organizing Domestic Workers in Indonesia" with two presenters from Indonesia. The presenter, Lita Anggraini (a National coordinator of Jala PRT), gave a presentation entitled 'Organizing for union advocacy: an inducement activity for inviting union members by using the RAP method―Seeking the household workers' decent work,' and Ani Soejipto (a Senior Lecturer at University of Indonesia) explained the condition of the bill in Indonesia titled 'Long distance of a domestic workers rights bill (RUU PPRT)' as a discussant.  Keiko Hirano was the coordinator of the seminar.
At first, Hirano introduced about Jala PRT. Jala PRT is the acronym for Jaringan Nasional Advokasi Pekerja Rumah Tangga, which means National Advocacy Network for Domesitic workers. Jala PRT legalizes domestic workers, who have not regarded as legalized workers until now, and aims for improving the better treatment of them. Now, Jala PRT organizes domestic workers unions at 8 regions of Indonesia and has a membership of 5,185 in Jakarta branch.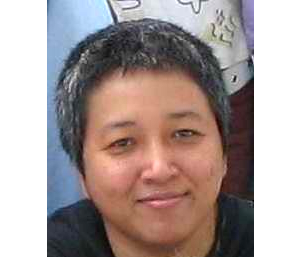 Anggraini presented the social meaning, backgrounds, and cases of recruitment activity using the RAP method. She described that discrimination and marginalization toward domestic workers was intertwined with feudalism, class distinctions, racial discrimination, and sexual inequality. Because of these disadvantageous situations, many domestic workers do not have decent work environments or employment contracts. To change the situation, Jala PRT has organized domestic workers in urban areas to help them acquire decent work environments and has launched a movement to unionize domestic workers. When Jala PRT launched a movement, they established 20 common goals such as requiring all employers to write document employment contract of domestic workers to guaranteed minimum wages, payment holidays and bonuses. Anggraini stated that when a movement began, the the most important matter was to increase the number of union members. To achieve this goal, Jala PRT has used the RAP method.
In Jala PRT, domestic workers who are union members ask other domestic workers to join the union. In other words, they "RAP" with them. Union members who use the RAP method distribute application forms as well as brochures about Jala PRT, employment support and security, and the regulations on labor standards published by the Indonesian government. When using the RAP method, union members usually ask about domestic workers' hometowns, how long they work, the working environment, and problems they are experiencing. Jala PRT assigns new members to working based committees called Team 10. By attending regular Team 10 meetings, members can provide information about their working environment to the city and prefectural level organizations. Team 10 can also connect its members to Jala PRT's paralegals and advocacy team. Even when domestic workers decide not to participate with Jala PRT, Team 10 members repeatedly use the RAP method to encourage them to join groups.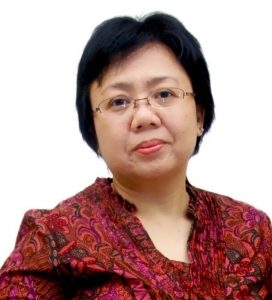 Ani Soetjipto, a discussant at the seminar, explained why a domestic workers rights bill has taken 17 years to be included in the Nation Priority Legislative Program. In her presentation, she also analyzed the political situation for enacting a bill of rights. She believes a major obstacle for enacting a domestic workers rights bill, is lack of political support because political parties do not believed that the bill will be beneficial to them nor contribute to their election results. There are several background factors; for instance, there are only a few decision makers in Indonesia who care and protect marginalized individuals' rights. As she mentioned before, this problem is related to the cultural background of Indonesia. Furthermore, domestic workers are beneficial to Indonesia as labor power to export to developed countries, therefore, they are treated as a cheap resource. Soetjipto also mentioned that the Indonesian government has a difficulty to ratify the ILO treaty (No. 189) since their legislation is in preparation.
To enact the domestic workers protection bill, Soetjipto clarified two essential points. The first one is the lack of support from political parties. Currently, the People's Democratic Party (Nasdem), which has 58 parliamentary seats, is the only supporter of the bill. However, the Golkar Party, with 85 parliamentary seats, opposes it while the other parties have not declared their position on the issue. Thus, it will be rejected. Based on the first point if the bill is brought to a ballot. The second point is that Nasdem needs to build a political agenda with other parties to enact the domestic workers protection bill. However, Nasdem believes the bills that other parties support are not urgent ones, such as the prohibition law and a bill protecting religious leaders and symbols. After all, differences in political agendas tore apart civil movements and women's movements. Thus, Soejipto argued that it was vital to consider the domestic workers protection bill as an ethical problem related to everyone in the country, rather than as a conflict of interests.
At the end of the presentation, Soetjipto suggested that there was a need for more lobbying of local governments and advocacy activities, rather than focusing solely on enacting the bill.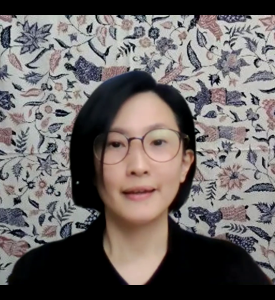 As a discussant, Hirano asked Anggraini two questions; first, how Jala PRT has taken a roll in a law proposal for domestic workers protection and second, how the COVID-19 has affected domestic workers' life. For the first question, Anggraini explained that Jala PRT had conducted a preliminary survey and introduced the domestic worker protection bill in 2004. In addition, Jala PRT was also lobbying the political party which follows a domestic workers protection bill. For the second question, Anngraini reported that COVID-19 has serious effect upon domestic workers' living environment such as increasing their working time. As a result, domestic workers cannot take care of children's distance learning. Moreover, due to the employers' bad economic situation, some domestic workers are fired and accordingly, they lost their incomes and residences. Since the Indonesian government's social security systems is insufficient, many civic organizations take domestic workers under their protection.
After the presentations, many participants asked about Jala PRT's activities and how employers of domestic workers felt about a domestic workers rights bill. The seminar closed in success.
Yohana MINOURA
(Ph.D. student, Hitotsubashi University)
《Event Details》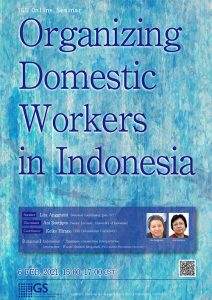 【Date/Time】Saturday, 6 FEB, 2021, 15:00〜17:00(JST)
【Venue】Online Seminar(Zoom)
【Presenter】Lita Anggraini (National Coordinator, Jaringan Nasional Pekerja Rumah Tangga (Jala PRT)),'Organizing for union advocacy :  an inducement activity for inviting union members by using the RAP method―Seeking the household workers' decent work'
【Discussant】Ani Soetjipto(Senior Lecturer, University of Indonesia), 'Long distance of  a protection bill for household workers (RUU PPRT)'
【Discussant/ Coordinator】Keiko Hirano(IGS project research fellow, Ochanomizu University)
【Translator】Waode Hanifah Istiqomah  (Ph.d. student, Hitotsubashi University)
【Language】Indonesian/Japanese (consecutive interpreting)
【Number of attendees】58