International Symposium "Women's Leadership &Political Empowerment from a Global Perspective"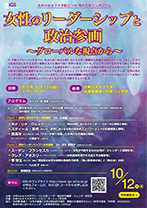 The active participation of women in all facets of public life is an established goal for 21st century global societies. Yet, the level of women's participation in Japanese decision-making bodies remains extremely low. In countries committed to gender equality, what efforts have been made and what achievements have been recorded? Notably, what changes have occurred within conventional decision-making institutions and processes as a result of women's leadership in the field of politics? Commemorating the 140th Anniversary of Ochanomizu Women's University and the inauguration of its Research Institute for Global Women's Leadership, this International Symposium will feature successful strategies and international examples of how to promote women's empowerment and political leadership.
Date/Time: Monday 12 Oct 2015,  13:00-18:00
Venue: 102 Inter-Faculty Building 2, Ochanomizu University
Program
Facilitator: Ki-young Shin (Ochanomizu University)
Opening 13:00-13:30
Kimiko Murofushi (President, Ochanomizu University)
Masaharu Nakagawa(Diet member; Executive Member of the Parliamentary Group for the Promotion of Women's Participation and Empowerment in the Field of Politics)
Aiji Tanaka (Waseda University; President, International Political Science Assosiation )
Panel 1  13:30-15:30
Worldwide Trends of Gender Quotas
Chair: Makoto Kobayashi (Ochanomizu University)
Mona Lena Krook (Rutgers University, USA)
Quotas for Women in Politics: Myths and Realities
Jackie F. Steele (University of Tokyo, Japan)
An International Toolkit of Measures to Support Women's Political Empowerment 
Chang-Ling Huang (National Taiwan University, Taiwan)
The Performance of Quota Women in Taiwan
Discussant: Mari Miura (Sophia University, Japan)
Break
Panel 2 15:45-17:30
Women's Political Leadership and Executive Power
Chair: Mariko Adachi (Ochanomizu University)
Susan Franceschet (University of Calgary, Canada)
What do Women Represent? Gender and Cabinet Appointments 
Claire Annesley (Sussex University, UK)
How to Recruit More Women Ministers and Why This Matters? 
Jinock Lee (Sogang University, S Korea)
In between a Strongman's Daughter and a Strong-Willed Woman: Unfolding Symbolic Representation of the First Female President in South Korea 
Discussant: Reiko Oyama (Komazawa University, Japan)
Wrap-up & Closing 17:30-18:00
Ki-young Shin (Ochanomizu University)
Yayoi Izaki (Ochanomizu University)
Registration
Registration Form
(Admission Free, Simultaneous interpretation available (English-Japanese)).
Organizer: Institute for Gender Studies, Research Organization for the Promotion of Global Women's Leadership, Ochanomizu University
Co-organizer: Institute for Global Leadership, Ochanomizu University
Cooperating organizations: JSPS KAKENHI, Grant-in-Aid for Scientific Research(C)26360042, Research Network on Gender and Diversity in Political Representation (GDRep)