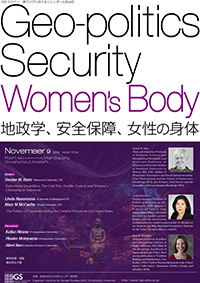 IGS Seminar(No.12, Gender and Politics in East Asia), "Geo-politics Security and Women's Body"
Date: Friday, 9 November, 2018, 14:00-17:00
Venue: Room 135, Main Building, Ochanomizu University
Organizer & Facilitator: Ki-young Shin (IGS, Ochanomizu University)
Speakers
Denise M. Horn(Simmons University, US)
Embodying Geopolitics: The Cold War, Fertility Control, and Women's Citizenship in Indonesia
Linda Hasunuma (University of Bridgeport, US) and Mary M McCarthy(Drake University, US)
The Politics of Commemorating the Comfort Women in the United States
Discussants
Keiko Hirano (IGS, Ochanomizu University)
Hisako Motoyama (Ochanomizu University)
Akwi Seo (Fukuoka Women's University)
*No prior registration required  (Admission Free)
Denise M. Horn
Chair and Associate Professor of Political Science and International Relations, and Associate Professor of Women's and Gender Studies at Simmons University in Boston, MA, USA. Author of Democratic Governance and Social Entrepreneurship: Civic Participation and the Future of Democracy (Routledge 2013) and Women, Civil Society and the Geopolitics of Democratization (Routledge 2010).
Linda Hasunuma
Visiting Assistant Professor of Political Science at the University of Bridgeport's School of Public and International Affairs. Research Interests in Japan's gender politics and the movements seeking justice for comfort women in the US. Member of the Maureen and Mike Mansfield Foundation's Network for the Future US-Japan Alliance, cohort II.
Mary M. McCarthy
Associate professor of politics and international relations at Drake University, USA. Editor of the Routledge Handbook of Japanese Foreign Policy. Most recent publication is "Coalition Building and Mobilization: Case Studies of the Comfort Women Memorials in the United States," with Linda C. Hasunuma (Politics, Groups, and Identities, 2018).
Organizer: Institute for Gender Studies, Ochanomizu University