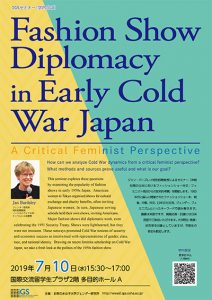 IGS Seminar, "Fashion Show Diplomacy in Early Cold War Japan: A Critical Feminist Perspective"
Dates: Wednesday, 10 JUL,  2019, 15:30:17:00
Venue: Multi-purpose Hall A, Hisao & Hiroko TAKI Plaza, Ochanomizu University
How can we analyze Cold War dynamics from a critical feminist perspective?
What methods and sources prove useful and what is our goal?
This seminar explores these questions by examining the popularity of fashion shows in early 1950s Japan. American women in Tokyo organized shows for cultural exchange and charity benefits, often inviting Japanese women. In turn, Japanese sewing schools held their own shows, inviting Americans. Major fashion shows did diplomatic work, even celebrating the 1951 Security Treaty. Shows were lighthearted, but they were not innocent. These runways promoted Cold War notions of security and economic success as intertwined with representations of gender, class, race, and national identity. Drawing on recent feminist scholarship on Cold War Japan, we take a fresh look at the politics of the 1950s fashion show.
Speaker: Jan Bardsley (Specially Appointed Professor, IGS/Prof. North Carolina Univ. Chapel Hill)
Prior registration required (Admission Free) Registration Form *Closed Seminar, Ochadai students only
Organizer: Institute for Gender Studies (IGS), Ochanomizu University
Seminar Report