IGS International Forum "Why Is the Right to Know Important? The Experiences and Thoughts of Donor-conceived People"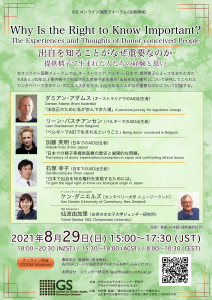 Date:29th August, 2021 (Sun)
Time:15:00~17:30 (JST) / 18:00~20:30 (NZST) / 15:30~18:00 (ACST) / 8:00~10:30 (CEST)
Lately, the importance of knowing the biological origin of donor-conceived people has been realized in Japan. Even so, concrete efforts to secure the right to know the biological origin of donor-conceived people are slow to progress.
In this online international forum, we will discuss why it is necessary to know biological origins with five guests: four donor-conceived adults from Australia, Belgium, and Japan, who will share their experiences and their thoughts on the right to know, and Ken Daniels, who has conducted research on families formed by donor conception and on donor-conceived people's right to access donor information for about 40 years.
Online Seminar
(Zoom Webinar)
Guest Speaker

Damian Adams (from Australia)
"A Personal Journey For Legislative Change"

Leen Bastiaansen (from Belgium)
"Being donor conceived in Belgium"

Hideaki Kato (from Japan)
"The history of donor insemination/conception in Japan and confronting ethical issues"

Sachiko Ishizuka (from Japan)
"To gain the legal right to know our biological origin in Japan"

Discussant
Ken Daniels (University of Canterbury, New Zealand)
Moderator
Yukari Semba (Project Lecturer, IGS)
Language
English/Japanese simultaneous interpreting
Registration
Zoom Registration form
 
 
Research presentation Abstract
"A Personal Journey For Legislative Change"
Damian Adams
Advocating and lobbying for changes in legislation is rarely a simple task, often taking many years of hard work. Sometimes it can be achieved by a single person, but more often than not, it requires a concerted effort by a group of people. Quite often, their need to create change will not be born out of a single event but will arise out of a multitude of events or perceived injustices during their lives. Damian Adams will take you on a personal journey of how he has been involved in various changes to legislation and policy in Australia.
This lobbying has culminated in recent amendments to the South Australian Assisted Reproductive Treatment Act and current amendments being debated that would overturn decades of gamete donor anonymity by granting donor-conceived adults' retrospective access to identifying information on their biological father/mother, the donor. The proposed amendments would be only the second time that such retrospective access has been granted in the world. These amendments would be following and building on pioneering legislation introduced in Victoria, Australia, as Narelle's Law.  
By examining how changes in the law have occurred around the world, and which have gone against decades of secrecy, culture, and lobbying by powerful interest groups such as fertility clinics and clinicians, we can understand some of the processes and steps required to attempt to change the law in other jurisdictions.
---
"Being donor conceived in Belgium"
Leen Bastiaansen
Since 2007, donor conception in Belgium is anonymous by law. Known donation is tolerated under certain conditions but rarely occurs. Identity-release donation is illicit. Since 2012, donor conceived adults are increasingly raising their voices, demanding legal acknowledgement of their right to know their origins. Although different political parties are since then trying to include donor offspring needs, no political consensus has been reached until today, so donor anonymity remains the norm.
Born in 1984, I was donor conceived in an era without legal regulations. However, donor anonymity was the de facto procedure and fertility doctors advised recipient parents to keep the method of conception secret. At 21, I learnt I was conceived through anonymous sperm donation because of my father's infertility. This revelation came as a huge shock, hard to recover from. The next years I spent fighting for my right to know my biological father. My desperate search was met with hurtful criticism, denial, and degradation. At 31, I finally found my biological father. We met several times. He is kind, and willing to answer all my questions, which I am grateful for. However, finding him has not resolved all the grief. New challenges surfaced, and I learnt that being donor conceived will never cease to be complicated and troubling.
---
"The history of donor insemination/conception in Japan and confronting ethical issues"
Hideaki Kato
he first donor insemination (DI) in Japan took place in 1948. It is estimated that nearly 20,000 people have been born by DI during the roughly 70 years since that date. However, we do not know the exact number of donor-conceived (DC) people because there is no registration system for donors, recipients, or donor-conceived individuals. At the peak of DI in Japan, more than 20 hospitals and clinics were involved in the practice. They recruited donors and implemented DI on their own, as they saw fit. The Japanese Society of Obstetric Gynecology began reporting ART results to the public in 1992, so since then it has been possible to keep track of the numbers of DI cycles and DI babies. Against this background, DI practitioners (Ob-Gyns) and recipients (clients) historically did not share information about donor conception. As a result, donor-conceived people did not receive appropriate psychological care or other support from professionals. If medical facilities provide psychological care and support to DC people, they must hire staff and train them for this purpose. However, the burden falls exclusively upon the medical facility; there are no legal or other incentives to reduce it. There are no legal or other incentives to reduce the resulting burden on medical facilities. In this lecture, I would like to talk about the historical background of DI in Japan and the problems of the Japanese medical system as it relates to donor conception.
---
"To gain the legal right to know our biological origin in Japan"
Ms. Sachiko Ishizuka      
Japan's first law on assisted reproductive technology was passed last December. However, the law did not include the right to know the biological origin of donor offspring, which we donor-conceived adults had been expecting. In our lobbying to seek our legal rights, we have felt how difficult it is to make people understand the importance of telling truth to children about their conception and the problem of donor anonymity. Many people believe that the right of donor offspring to know biological origin puts a strain on donors. It is reported that the working group tasked with amending the law is preparing to add a clause about the disclosure of limited information of donors. I would like to explore what kind of strategy those of us in Japan should take in order to gain the right to know our biological origin at this forum.
Discussant
Dr. Ken Daniels
Biographical Note
Ken Daniels has been working in the field of donor insemination (DI) and assisted human reproduction more than 40 years. He has provided counselling for parents and families, co-conducted preparation seminars for those considering DI, spoken to numerous consumer groups and organisations, conducted research in some countries, written extensively and acted as a consultant on policy development in several countries. He was Deputy Chair of the National Ethics Committee on Assisted Human Reproduction and Deputy Chair of the Advisory Committee on Assisted Reproductive Technology. He retired from his full time teaching position at the University of Canterbury in Christchurch, New Zealand, but remain very active in research, policy advice, writing and teaching. and counselling. His main area of interest remains the psychosocial aspects of assisted human reproduction and in particular gamete donation and its impact on family health and wellbeing. He published so many papers and articles.
Organizer: IGS, Ochanomizu University
Co-organizer: JSPS Grant-in-Aid for Scientific Research (C) "Research on How Other Countries Deal with the Conflict between Gamete Donor Anonymity and Donor Offspring Right to Know" (18K00034)