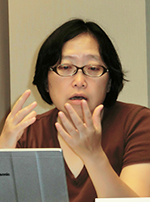 Chang-Ling Huang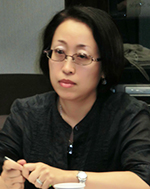 Mari Miura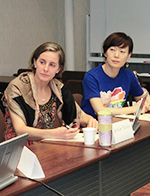 Jackie F. Steele
& Ki-young Shin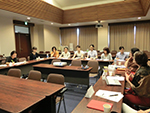 On July 31, 2015, the second IGS seminar / 6th "Party Behaviour & Political Institutions" study group was held at the Ochanomizu University. Chang-Ling Huang (Taiwan National Univ.) gave a presentation entitled "Reserved for Whom? The Electoral Impact of Gender Quotas in Taiwan," and Ki-young Shin (IGS, Ochanomizu Univ.) served as the moderator.
Huang reported on the reserved seats system adopted in Taiwan's local elections. The discussion centered around the details of the quota system and the qualifications of the female politicians who gained seats through quotas. Taiwan has adopted SNTV-MMD (single non-transferrable vote with multi-member district) electoral system in local politics. One in every four seats are reserved for women in districts with more than four seats. According to such electoral rules, a male candidate is sometimes forced to give up his seat to a female candidate who has gathered less number of votes due to the provisions associated with reserved seats. Thus, the Taiwan case allows us to make a comparison between the woman and the man who were seated and unseated. Based on the results of three recent local elections, Huang showed that the majority of women elected through reserved seats had equal or better qualifications than the men they unseated. Furthermore, Huang said increasing reserved seats or gender quotas enhance not only women's political participation but also political competition, and this constitutes a powerful argument to those who oppose quotas.
Responding to Huang's report, Jackie Steele (The Univ. of Tokyo) and Mari Miura (Sophia Univ.) made comments. Steele asked questions regarding the historical background in which Taiwan adopted the SNTV system, and the impact of Taiwan's quota system to nonpartisan candidates and candidates affiliated with small political parties. Miura raised questions regarding "education, social participation, and political experience" that Huang brought up as indicators to measure the qualifications of female politicians who won seats. Miura also presented an argument regarding the appropriateness of translating Taiwan's quota system as "Reserved Seats." During the Q&A session with the audience, various questions were brought up such as the differences between the qualifications of quota and non-quota politicians, whether those elected through the quota system are regarded as equals to the non-quota elected candidates, and whether those elected through the quota system are appointed in important posts. The venue was full of energy, and lively discussions were made in a casual atmosphere as if in a college seminar.