IGS Seminar "Gender Matters: Being a Foreign Academic in Japan"
The Institute for Gender Studies (IGS) hosted the online seminar "Gender Matters: Being a Foreign Academic in Japan" on February 16, 2021. Diane Hawley Nagatomo (Professor, Ochanomizu University) and Richa Ohri (Lecturer, Chiba University) gave presentations, and Yoko Totani (Professor and IGS Director, Ochanomizu University) served as the moderator.

From left: Nagatomo, Ohri, and Totani
Nagatomo has long researched issues of English teachers' gender and identity in Japan. In her keynote presentation, she explained how her interest developed from her earliest research to her latest publication in 2020, which is the co-edited book Foreign Female English Teachers in Japanese Higher Education: Narratives From Our Quarter.
Nagatomo began to research English teachers' issues around 2005, but, initially, she did not focus on gender. However, interviews with English teachers in Japanese universities revealed that gender was a major factor for female English teachers' career choices. From the 1960s to 80s, parents of female students regarded the English major as "appropriate" and "ladylike." These parents persuaded their daughters to major in English by saying, for example, "If you major in mathematics, you will inevitably face harsher competition with male students" or "Studying English offers the possibility of opening an English school for children at home after you get married and become a housewife."
In her next research project, Nagatomo focused on foreign female English teachers with Japanese husbands. Through interviews, she discovered that gender and nationality were key elements for developing their professional identities. Foreign nationality often limited their employment conditions, even though they were married to Japanese men. They were also sometimes troubled with "native-speakerism" in the teaching environment. Such experiences were reflected in their identity development, and that result led Nagatomo next to research gender differences among foreign English teachers. In turn, that result led to further interest in foreign female English teachers' experiences. Next, with co-researchers, Nagatomo began collecting foreign female English teachers' autobiographical narratives.
For that project, 23 authors provided unique narratives. Their backgrounds varied in nationality, ethnicity, sexual identity, age, professional status, marital status, and so on. Nagatomo explained that in academia, autobiographical narrative is a relatively new research method. In her earlier projects, Nagatomo recorded, interpreted, and analyzed interviews, but autobiographical narrative does not involve that process. Instead, participants tell their stories in their own words—a methodological strong point that might bring about deeper understanding of identity development and maintenance. Indeed, the writing process can be transformative for participants, and, for general readers, participants' stories are more readable, providing accessible and stimulating research outcomes. Such advantages were well represented by Richa Ohri's subsequent presentation.
Ohri is one of Nagatomo's project participants. In "Identity Matters: Carrying the Burden of the Ascribed 'Lesser' Identity," she discussed the importance of self-reflection, that is, thinking deeply about one's identity based on her experience of writing an autobiographical narrative for the project.
Ohri said that being an "English-speaking foreigner" and a "female" were two major factors in her professional identity, and she described their complex natures. During job hunting for an English teacher position, she discovered a racial hierarchy among English-speaking foreigners. Language schools prefer to hire native speakers of English, and that condition often implies being white. Coming from India, Ohri is an English-speaking foreigner, but her appearance was regarded as not good enough. She named that not-good-enoughness a "lesser" identity.
Being female can constitute a "lesser" identity too, particularly under unspoken preconditions of expecting women to work just like male employees. As has happened to many professional women, Ohri was asked in a job interview whether she planned to have children. Male interviewees would never be asked such a question, of course. To avoid being regarded "unprofessional," Ohri confessed that she instantly answered "No." In such a situation, being female can be perceived as burdensome and feel "lesser."
We all are unconsciously tied into our identities, which are formed by how others recognize us and how we recognize ourselves. Identities can motivate us or cause us to act. They can empower us at times but burden us at others. In her presentation, Ohri stressed the importance of self-questioning about identity's unconscious influence. She suggested that awareness of our identity's characteristics, reflection on what that identity means to us, and talking about identity might help develop a fairer society. Considering our own identity might even lead the way to understanding others.
These two presentations helped us not only realize issues that foreign female English teachers face in Japanese universities, but also introduced us to the method of autobiographical narrative and to greater understanding of identity studies' significance. Given that Japanese society is being urged to embrace diversification, discussion about identity, leading to deeper understanding and insight, is needed for realization of a society fairer to all.
Report by Kumi YOSHIHARA (Project Research Fellow, IGS)
---
[Reference]

Foreign Female English Teachers in Japanese Higher Education: Narratives From Our Quarter.

Edited by Diane Hawley Nagatomo, Kathleen A. Brown, and Melodie L. Cook

Candlin & Mynard ePublishing, 2020
ISBN: 9781005291242
《Event Details》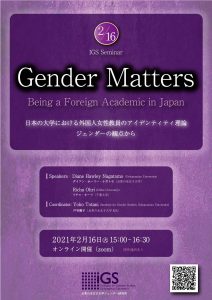 IGS Seminar "Gender Matters: Being a Foreign Academic in Japan"
【Date】February 16, 2021, 15:00~16:30
【Venue】Online (zoom webinar)
【Presentations】
Diane Hawley Nagatomo (Ochanomizu University)
"Gender Matters: Being a Foreign Academic in Japan"
Richa Ohri (Chiba University)
"Identity Matters: Carrying the Burden of the Ascribed 'Lesser' Identity"
【Moderator】Yoko Totani (Professor/ IGS Director, Ochanomizu University)
【Language】English and Japanese with simultaneous interpreting
【Number of participants】101