International IGS Seminar "Period Poverty"
In November 2020, the IGS seminar on the theme of "Menstruation Education and Lifelong Health of Women" was held online and it received varying feedback from participants. We realized that we need more opportunities to discuss on the issues related to menstruation, which is a familiar physiological phenomenon for women and also part of their health. Amid the COVID-19 pandemic, the media has been recently paying attention to women who have lost their jobs. In addition, it has been reported that there are young women who face difficulty in obtaining sanitary napkins due to financial reasons. Therefore, we organized the IGS seminar to discuss on the issue of "Period Poverty," and invited Dr. Kirsten MacLeod and Dr. Miki Nagashima.

   Dr. MacLeod began making a documentary film on the theme of period poverty with her students and colleagues from Edinburgh Napier University in 2018, and the completed film Bleeding Free was premiered one month before the seminar in the UK. She introduced a part of the movie and presented how period poverty affects the education and life opportunities of young women and girls. In Scotland, the "Period Products (Free Provision) (Scotland) Act 2021" was enacted in November 2020 and has been in power since January 2021. A policy has been framed by the Scottish government wherein it makes sanitary products available to all Scottish women and girls "who need them," especially in educational institutions and public places. The film started by showcasing the story of Scottish students who were designing period-product dispensers for their university. The film covered a variety of approaches, such as raising awareness about period poverty, government policy levels, and students and female students campaigning within their educational institutions. The film also features activities in Uganda, with in-school projects that teach girls how to make reusable sanitary napkins and show community facilitators and senior citizens the ways to support women to make sanitary pads. Dr. MacLeod introduced various approaches, such as activities leading to the start-up of the manufacturing and selling business, and providing support for health education related to menstruation. She believed that these activities need to involve men in order to get the support of the wider community for long-lasting success and influence.
   The next speaker, Dr. Miki Nagashima, presented the current situation and issues of period poverty along with young women's loss of opportunities in Japan. The findings were based on the results of the "Awareness Survey on Menstruation of Japanese Youth Women" which was conducted by Plan International, Japan in March 2021. Dr. Nagashima first explained the historical background of how menstruation has been regarded as a taboo in Japanese culture for a long time, and then presented the survey results. She and her colleagues surveyed 2,000 women aged 15 to 24 years about menstruation and their daily life related to it. From the survey, they found that 3 out of 10 women had experienced inability to buy or hesitation to buy sanitary napkins for the following reasons: "low income," "sanitary products are expensive," "parents do not buy them," and so forth. It was also found that the purchase of sanitary products and medicines, such as low-dose pills and painkillers, for menstruation has a lower priority than the purchase/consumption of entertainment, transportation, and beauty care. In addition, 1 out of 2 women suffered from menstrual cramps, and 3 out of 10 experienced missing out on several good opportunities because of arriving late, leaving early or being absent from school, club activities, or the workplace due to menstruation. Most of the subjects were taught treatment methods by their mother upon having their first period, and most of them answered that the person they would consult, if needed, was also their mother. Based on the survey results, Dr. Nakajima reiterated that many young women are losing important opportunities due to the influence of menstruation. She also mentioned the importance of speaking openly in public, visualizing the problem instead of hiding the stigma behind menstruation, and the need for sex education at school.
Many people, including men, participated in the seminar and we received a lot of feedback and questions. It showed us the high level of interest in the issue.
Reported by SEMBA Yukari
(Project lecturer, IGS, Ochanomizu University)
《Event Details》
International IGS Seminar "Period Poverty"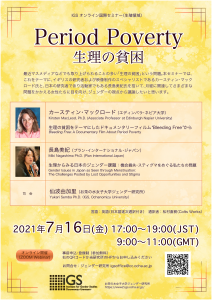 【Date/Time】July 16, 2020, 17:00–19:00 (JST)/09:00–11:00 (GST)
【Venue】Online
【Reporter】
Kirsten MacLeod, Ph.D. (Associate Professor at Edinburgh Napier University)
"Bleeding Free: A Documentary Film About Period Poverty"
【Reporter】
Miki Nagashima, Ph.D. (Researcher at Plan International, Japan)
"Gender Issues in Japan as Seen through Menstruation: The Challenges Posted by Lost Opportunities and Stigma"
【Moderator】Yukari SEMBA (Project lecturer, Institute for Gender Studies, Ochanomizu University)
【Language】English/Japanese (Consecutive interpreting)
【Number of attendees】154