Why Is the Right to Know Important?: The Experiences and Thoughts of Donor-conceived People 
In 1984, for the first time in the world, a law was passed in Sweden to guarantee the right of people conceived by DI (donor insemination) to obtain their donor information. Since then, other countries have also established laws to secure donor-conceived offspring's right to know their donor. However, many countries, including Japan, still maintain a policy of donor anonymity.
For this forum, we invited four donor-conceived persons from Australia, Belgium, and Japan and asked Professor Ken Daniels to act as discussant. Prof. Daniels has conducted research on families formed by donor conception and on issues relating to donor anonymity and donor offspring's right to know their biological origin. The purpose of the forum was to discuss the importance of donor information and biological origin for donor offspring.
The first presenter, Damian Adams, was DI conceived in South Australia. He has been lobbying for more than a decade to amend the state's law to ensure donor offspring's right to know their donors. He talked about his experiences, including the pain and suffering he incurred lobbying to seek revisions of the law. He also mentioned the importance of professional support, including social workers, psychologists, ethicists, and scientists.
The second presenter, Leen Bastiaansen, is a Belgian DI-conceived woman. She shared her experiences as a donor-conceived adult in Belgium and explained why she sought her donor information. In Belgium, with some exceptions, gamete provision is legally required to be anonymous. Together with other DI offspring and their supporters, Ms. Bastiaansen has lobbied to seek legal guarantees for the right of donor-conceived offspring to know their donor information; however, Belgium still maintains a policy of donor anonymity. Ms. Bastiaansen happened to find her own donor after appearing on a television show in the Netherlands. But she said that she encountered new problems thereafter. For example, the donor was nice to her and looked at her with the gaze of loving father watching his daughter, but he was still a complete stranger to her, so she felt uncomfortable with his attitude.
The third presenter, Hideaki Kato, is a Japanese DI-conceived man. He discussed his experiences as a donor-conceived person in Japan as well as the historical background of Japanese DI and his opinions about the situation regarding DI in Japan. He is a medical doctor, so he spoke from a professional standpoint about the problems of the current medical system regarding DI in Japan.
The fourth speaker, Sachiko Ishizuka, is a Japanese DI-conceived woman. Her father suffered from a genetic disease and she was worried about whether she would inherit it. To put her mind at ease, her mother told her when she was 23 that she had been conceived by DI. While Ms. Ishizuka was relieved to know that she had no genetic connection with her father and no longer had to worry about inheriting the disease, she realized that her parents had concealed the circumstances of her conception from her for 23 years and felt that her life had been built upon lies. She said that she wanted to know who her donor was because she wanted to assure herself that she had been born from a real man, and not just faceless sperm. Ms. Ishizuka has lobbied for the abolition of donor anonymity and for establishment of the right of donor offspring in Japan to know their biological origin. She said that she wanted more people to understand the importance of knowing one's biological origin and the problems caused by donor anonymity.
Discussant Ken Daniels said that there are more and more cases worldwide where donor offspring want to obtain donor information and meet their donors. He introduced cases in which donor offspring used DNA tests, SNS, or websites to find their donor or half-siblings born from the same donor, noting that many self-support groups of donor offspring or parents of donor-conceived children have been established in the world. He also said that some people oppose the abolition of anonymity based on the idea that revealing information of sperm donor may damage family relationships, and that although many parents of donor-conceived children were advised by medical professionals not to tell their children about their conception by DI, many donor offspring were aware that there was something secret about their family. Prof. Daniels has been involved in many research projects, through which he became familiar with the thoughts of donor offspring. Some DI-conceived adults who were the subjects of his research said that their identity is greatly influenced by family relationships, and while the parents who raised them are important, it is also important to know their genetic background. Prof. Daniels mentioned that trust is important for family formation, so growing up in a secretive family has a negative effect on the child's identity formation, and living with a secret also has a strong negative effect on people. He also introduced the Swedish case. Sweden was the first country in the world to legally abolish donor anonymity; after it did so, there was a decline in the number of donors just after the law came into force. However, the research that he and his colleague conducted some more years later showed that the number of donors increased following the abolition of anonymity, and the nature of sperm donors changed from young college male students to older married donors with children. He also introduced his research on donors in New Zealand, which showed that many donors are willing to disclose their information.
In closing, Prof. Daniels said that donor shortages are inevitable even if anonymity is maintained, and that the abolition of anonymity and the decrease in donors are separate issues. Unless legal changes are made, social attitudes will not change. In other words, society will recognize the importance of abolishing donor anonymity if and when legislation is established to secure people's right to know their biological origin.
This forum attracted public attention and nearly 190 people, including donor-conceived adults, parents of donor-conceived children, intended parents, researchers, and Ob-Gyns, as well as members of the media and the general public, participated. The forum also was featured in Internet articles in HuffPost and Yahoo News (both dated August 30, 2021) and in the newspaper Shimbun Akahata (dated September 17, 2021).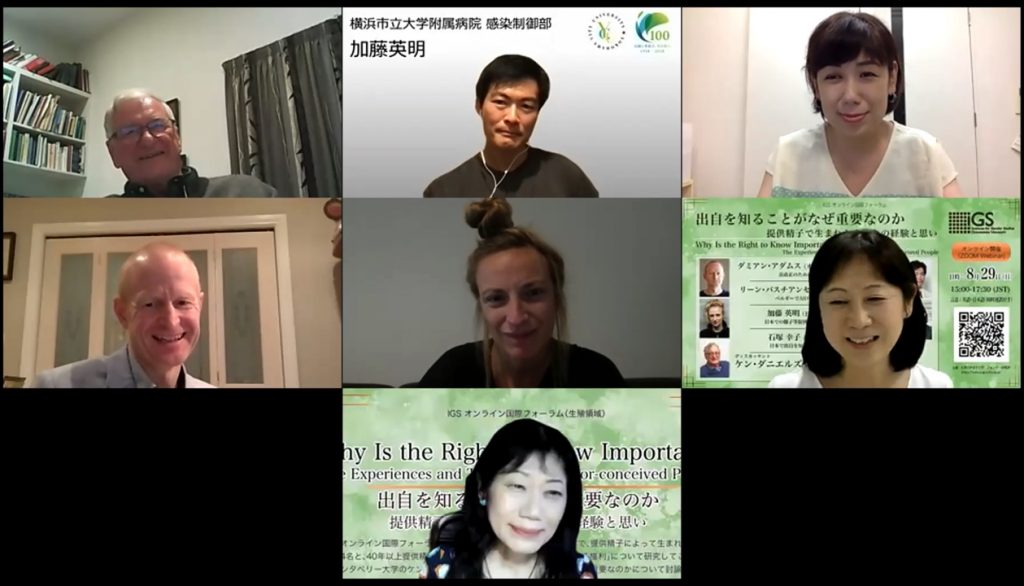 Reported by Yukari Semba (Project lecturer at IGS, Ochanomizu University)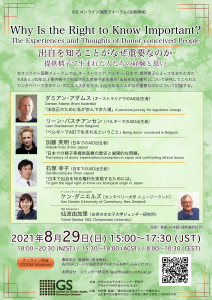 《Event Details》
IGS International Symposium
Why Is the Right to Know Important?: The Experiences and Thoughts of Donor-conceived People 
Date/Time: August 29, 2021, 15:00~17:30 (JST), 18:00~20:30 (NZST), 15:30~18:00 (SCST), 8:00~10:30(CEST)
Venue: Online (Zoom Webiner)
Presenter
Damian Adams (Donor conceived in Australia)
  Presentation title: A Personal Journey for Legislative Change
Leen Bastiaansen (Donor conceived in Belgium)
  Presentation title: Being Donor Conceived in Belgium
Hideaki Kato (Donor conceived in Japan)
  Presentation title: The History of Donor Insemination/Conception in Japan and Confronting Ethical Issues
Sachiko Ishizuka(Donor conceived in Japan)
  Presentation title: To Gain the Legal Right to Know Our Biological Origin in Japan
Discussant
Ken Daniels (University of Canterbury, New Zealand)
Moderator
Yukari SEMBA (Project lecturer at IGS, Ochanomizu University)
Language
English and Japanese (simultaneous interpreting)
Number of Attendatees: 187
Co-sponsored by
JSPS KAKENHI Grant Numbers (18K00034) and
Institute for Gender Studies, Ochanomizu University